---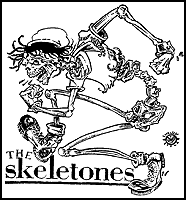 Introducing the Skeletones, a septet band based out of Riverside California. Formed in 1986 by Paul "Prince Skeletone" Hampton, the Skeletones have become a mainstay in the California music scene for numerous years. Makeda Dread of 91X fame call the Skeletones "The #1 ska band in California and perhaps the world." Dave Wakeling of General Public proclaims the Skeletones of "Having a refreshing sound." The band plays a style of music that is being called "The New Generation's Music." The Skeletones play a combination of several different musical styles such as soul, jazz, rock, and reggae but utilizing ska as their main element. The direct result is a professional act that will become a powerful force in the music industry. Front-man Jonas "Monkey Man" Cabrera provides insightful lyrics, strong vocals and frantic gestures on stage that leave you wanting more and more.
---
Who are these people?
---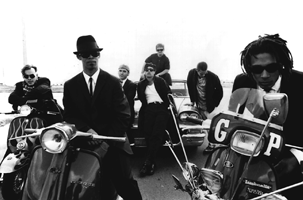 Kip Wirtzfeld on tenor sax
Cabrera on trumpet
Jason Schultz on drums
Alex Tasch on guitar
Mark Cummings on bass
Hampton playing keyboards/organ

---
Where can I hear them?
---
Their own releases:
Compilations:
---
Want some more to read?
---
These articles come to us from Aidin Vaziri (aidin@sirius.com). Thanks a lot, Aidin!

---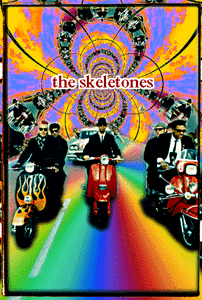 The words explosive, refreshing, original and uplifting are just some of the adjectives used by critics and fans to describe the Skeletones. Having shared the stage with such bands as the Red Hot Chili Peppers, Fishbone, School of Fish, Echo and the Bunnymen, and Bad Religion is added evidence that the Skeletones can play with and cover a broad spectrum of music. You WILL be taken aback by the Skeletones experience.

---

Bill Tanner (ska@billtanner.net)