Skankin' on the net since the summer of '94...

So, you just happen to be in Texas and you wanna find a little Ska (for all I know you're in Nome, Alaska and really bored, but that's not the point). This is by no means the end-all-be-all page for that type of info, but then again, it's not a bad start either. As always, if you've got anything you'd like to add to the page, drop me a line and let me know!



Table O' Contents
---
The Alloys from San Antonio
---
The Amazing Skasmonauts from Austin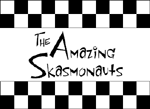 The Amazing Skasmonauts are a thirteen-member Christian ska ensemble hailing from that nexus called North Austin. We take a ska base based in trad and third-wave ska and blend it with punk, funk, jazz, swing, metal, blues, surf, reggae, two-tone, hardcore, and good ol' rock'n'roll. Our influences (as if you cared) are the Insyderz, Less Than Jake, Five Iron Frenzy, the Aquabats, the Specials, the Wailers, the Silvertones, the Mighty Mighty Bosstones, the Krusty Watch Guys, Hepcat, the W's, Metallica, MxPx, Petra, the Ramones, the Beatles, Herb Alpert and the Tijuana Brass, Boston, the Jimi Hendrix Experience, War, and many, many others. The Amazing Skasmonauts seek to glorify the Lord (our only valid reason for playing the ska) and have a heaping helpful of fun (those two things go hand-in-hand). Musically, we seek to prove the versatility of ska by blending it with numerous styles and fashions. We have a trad- and blues-influenced swing/ska song, a trad ska meets Ramones-flavored punk song, a metal/ska/reggae mix, a wah-meets-ska song, a ska/funk/punk blend, and many other blends of ska with a world of music. Our stage show is equally diverse, with on-stage skankin' and thrashin', as well as the tossing of candy, muffins, party favors, and other surprises and special guests. We're not some garage band either, we're actually playing shows (boy, that sounded really pitiful)!
Our crazy gang of Skasmonauts are (we're big, ain't we?):
Daniel Skasmonaut - trombone
Aaron "Killoff" Skasmonaut - cornet, vocals
Cory Skasmonaut - alto sax
Billy Skasmonaut - clarinet
"Jubes" Skasmonaut - cornet
Jeffrey Skasmonaut - vocals, rhythm guitar, toastin'
Sean Skasmonaut - lead guitar, vocals
Vince "Vince" Skasmonaut - bass
"Pedro" Skasmonaut - vocals
Andrew Skasmonaut - drums
DJ Cobra Skasmonaut - keyboards, samples
"Dr." Brad "Backwards" Skasmonaut - additional percussion, pitch pipe, kazoo, toastin'
Colin "Chill" Skasmonaut - crazy dancin' stage guy, toastin'

If you want to book us (and you know it's tearing you apart not to!) contact us at Skasmonauts@about.com.
(From Jeff at Skasmonauts@about.com)
---
Big Thirteen from Abilene
---
Blue Light Special from Corpus Christi
Blue Light Special (BLS) is a ska band from Corpus Christi, TX. The band consists of 8 members: Aaron Boudreau (lead singer), Jonathan Lee (guitarist), Ann Locklin (bass guitarist), Ryan Hayden (drummer), Mark Gonzales (trombonist), Justin Howe (trombonist), Austin Carter (trumpet player), and Adam Cook (tenor saxophonist). The band is managed by Frank Cook and also has a dancer, Alexei Wood. For more information or to contact BLS, visit their homepage here or, email them at: bls69@hotmail.com
(From Jen at bls69@hotmail.com)
---
The Bored-Agains from Dallas
Hooray!!! It's The Bored-Agains!!!! The Bored-Agains are a 5-piece 3rd wave ska band from the DFW area. They play their own unique brand of ska, blending reggae, two-tone, jazz, funk, and even a little metal. If you ever have a chance to see this band play, please do. You will not be disappointed for their live show is their best asset. The Bored-Agains love to play music and that is apparent at their shows. They will play anywhere, anytime...you name it, they will play it. So in conclusion, The Bored-Agains like fun, and so do you...so why shouldn't you like THE BORED-AGAINS?!
(From Skablam972@aol.com)
---
The Bowler Boys from Austin

---
Broadway Bomb Squad from Houston
---
Burnt Toast from Houston



(If you've got an MPEG player, click on the logo for a "surprise")
Burnt Toast is a 7-member ska band from Houston, Texas. They do a smattering of covers as well as hand-crafted originals. Hermann, their lead singer, combines his personal training by Smokey Robinson with his expertise gained from spending three years studying Tuvan throat singing. The rest of the band brings together such diverse backgrounds as acid jazz, funk, punk, soul, reggae, jazz, classical, and just a whole corn-u-copia of other styles to produce music that still sounds like ska. Wowee! We're young, we're learning...but hey! That's okay because we're "Houston's newest ska act" (Jan. 25, 1995, Public News). And feel free to bring us toast any time you see us...it's not a tradition, but if you'd like it to be, that's fine...we're just THAT KIND OF BAND!
Thank you and good night!
(From Todd at stadler@rice.edu.)
---
The Contradicks from Austin

| | |
| --- | --- |
| | ??? |
The Contradicks are an Austin-based punk and ska outfit consisting of two guitars, bass, and drums. They broke up in late '95, after playing gigs with many Texas bands such as the Suspects and Spies Like Us and national bands such as San Diego's Buck O Nine. They were famous for their comedic banter with the audience and their cover of The Jimmy Buffett classic "Margaritaville."
(From Dave at dca2@dana.ucc.nau.edu)
---
Coxcomb from San Antonio
---
Designated Johnny from Flowermound
Designated Johnny is a 8 piece ska/punk combo from Flowermound (near Dallas). Fast punk with the booming horn section make this band one that will soon dominate the scene.

Contact: designatedjohnny@hotmail.com
(From Alex at skankinluffy@hotmail.com)
---
The Dreadnaughts from Dallas
---
5 Finger Discount from Cypress
---
Fixed Idea from El Paso
---
Fuhgetaboutit from Houston


---
Gals Panic from Austin

| | |
| --- | --- |
| | (Some of them went on to form the bands Missle Command and Playdough Squad) |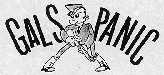 I don't have a blurb from the band, but here's a review of the their tape that should give you a basic idea about 'em:

Gals Panic -- AIRPORT SECURITY THINGS
[Goopy Pyramid Records]
HIGHLIGHTS: "Gals Panic," "Sega Face," "Space Race," "Chuck Norris Action Jeans"
Look, look, I'm SKANKIN'! Awright! Yow! Twist shukka twist shukka leap leap leap! Hey! And I don't even own anything plaid! Aaaaieeee! Crazed ska from my own obnoxious hometown (Austin, that is...), a self- released effort to boot (an EP, cassette-only as far as i know; they have a couple of singles out too), and it's pretty nifty (assuming you can stand ska, that is). Actually, debate rages as to whether these guys (whose singer has the dubious distinction of being even SHORTER THAN MYSELF, which takes some doing for anyone over twelve, believe me) are actually "true ska," since they lean toward bursts of heavy-metalism now and then, but the purist argument always bores me anyway, so hah!
Besides, they MUST be ska, for their lyrics are smart-assed and read as if they were written in the car on the way to the studio, and most importantly, make LITTLE SENSE. "Play our game 'til she gets naked / On mine I want cheese and bacon / If I had another quarter / I could reach the next nude border"... yah, must be ska, mon.... Plus "Sega Face" is about Sega games (duh) (and yet NO MENTION of Sonic! how could they forget?!?!), and "Space Race" reveals that they are apparently unaware that the cold war ENDED a while ago (or else they just don't CARE). Songs like "Mummy Cops" and "Skoliosis Skank" are pretty self-explanatory, I think....
For a self-released project, this sounds pretty good -- the guys are certainly no slouches in the playing department -- although their judgement is sometimes questionable (a song whose entire lyrics are "talk... laugh... cry"?!?!?! uh....). But hell, they're SUPPOSED to have questionable thinking, it's SKA dammit, and they are energetic and thus good for jumping around like a spastic moron, aaaaaah, just go buy it, ok?
(The review comes from "Chinawhite" and was taken from issue #9 of the music ezine called DEAD ANGEL. For more info about the ezine get in contact with chinawhite@delhi.com.)
---
The Gimix from Fort Worth


The Gimix are a Ska/Punk/Funk band from Fort Worth, Texas and surrounding areas. They are composed of a few college students(TCU), and a few dropouts. Check em' out!
(From RJ at rbjohnson@DELTA.IS.TCU.EDU)
---
G.L.U. from Kingsville
They're on the run from a little town in south Texas. On the way though, they bust out some awesome third wave ska. This band is very skankable, very cool, and very Christian. Check 'em out, you won't regret it.
(From Chris at britva@hotmail.com)
---
Goonsquad from Kaufman
---
The Gops from Houston


The Gops are a keen ska and punk band from Houston. Check out the page (here or here) for concert info, band profiles, cool pictures, flyers, ads, artwork, and more! They've been playing all around the Houston area so pick up a flyer and don't miss the show.
(From Dwaine at wbulloc1@ix.netcom.com)
---
The Graduates from Dallas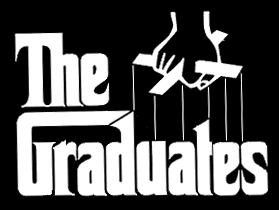 The Graduates are a new MEATY Dallas Based Ska band working their way towards world dommination! Sounding sometimes somewhat like Skankin Pickle, the Grads also have some Swing and Big Band influences, doing a prelude of the classic Benny Goodman tune "Sing, Sing, Sing!" The Grads have just recently released a new 5 song tape that promises a good time to all who are rude.
(From Adiikan@aol.com)
---
The Grown-Ups from Dallas

| | |
| --- | --- |
| | (But they're still recording stuff!) |

If you like your ska with a few robots on the side, a sprinkle of girl trouble, and a dash of Star Wars, check out the Grown-Ups from Dallas, Texas. Original ska with the 2-Tone touch. For more info write to:
The Grown-Ups
P.O.Box 140361
Dallas, TX 75214
or e-mail GrownUps@aol.com.
(From Dave and Christopher at GrownUps@aol.com)
---
Half Loaded from Houston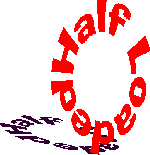 Half Loaded is an eight member ska band str8 from that H-town scene. Let it be known that we don't mess around and we know where you live. Half Loaded has played with the Blue Meanies, the Hippos, Los Skarnales, Home Grown, Middlefinger, the Grown-Ups, the Suspects, Mustard Plug, the Skatalites, the Pilfers, and Mephiskapheles. Formed from members of the Mod Squad, we promise to put on a good show. Come check the web site to see what we're all about. It has sound files, upcoming show info, and booking information just to wet your appetite. Also, keep your eyes open for our new CD, "You Do The Math," in stores now!
(From Patrick at bigpat@rice.edu)
---
Holey Guacamole! from Richmond/Katy


Holey Guacamole! is a ska band from Richmond and Katy, both just outside of Houston. We play that third wave ska with some punk thrown in for flavor. Contrary to what some people have said, we are still together! We've played with such bands as Against All Authority, Blanks 77, Boy Kicks Girl, Half Loaded, and Skavoovie and the Epitones. Check out the website that Jeremy is at a feverish pace to update all the time. Keep your eyes open for our big return show, and possibly a new CD in the fall. For info, or if you want us to play near you, contact us at HOLEYGUAC1@aol.com.
(From Mike at filendrska@aol.com)
---
The Housewives Choice from Houston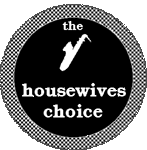 The Housewives Choice is a ska band from Houston, TX. Nobody has ever heard of us except our friends and our parents. We originally started as Jimmy Spitz,a shitty punk rock band with franq, juan, skatt, and a guy named c.c. on bass. We played at some church and at some guys party. Juan learned how to play sax (okay, kazoo), we got another guitarist named rikki, some fatass drunk on bass, and decided to play ska-punk. We then evolved (not very much) into Tu Madre. That lasted a month or two. We got rid of the the drunk, got ro-ro, and once again we were Jimmy Spitz. Franq went to Alaska for the summer and we got some guy to sit in for him, but no one can replace that fine young man. Summer was over, ska was in our hearts, sex was in our brains. We knew what must be done. We bought a goat and formed The Housewives Choice.
(From Franq at monkey@icct.net)
---
The Impossibles from Austin
Kick ass 4-part punk/ska band from Austin. They sound a little like Weezer with a skank guitar. Very energetic live shows. They even have a song about a teddybear! Oh yeah, and Gabe, their guitarist, is a really nice guy. They can be reached at:
The Impossibles
P.O. Box 49712
Austin, TX 78765
(From Brent at baileyb@netropolis.net)
---
The Indestructible Huxtables from Houston
---
Ivy League from Lewisville
Ivy League is a punk\ska band (mostly punk) that has one horn player (trumpet) who rarely plays but he's a cool guy. They contain all teenagers. They are hoping to put out a 7" soon. They live near Denton (Lewisville). Their influence are Falling Sickness, AFI, Assorted Jellybeans, and Citizen Fish. If you would like to contact the band then e-mail them at jetta3030@earthlink.net or cassius5656@yahoo.com. We would be glad to play a show.
(From jetta3030@earthlink.net)
---
John Q Public from Houston



John Q Public played about a dozen shows from August 1995 (the Abyss' highest attended local show of '95) to March 1996 (the infamous "Skank Patrick's Day" show.) During that time the band went through several horn players, vocalists, and keyboard players. They stole the top award at the 1996 Clear Lake High School Battle of the Bands and electrified masses of teenage girls with such hits as "Backpack Girl," "Too Bad," and a sensational cover of Del Shannon's "Runaway." They opened for such acts as MU330, Slapstick, and the Skastafarians, and had the honor of playing at the Suspect's CD Release for "99 Paid." Former members can now be heard in such bands as UTA, Supermarket All-Stars, Broken Span, and the Sperlings.
If you want to be in a ska band, contact Steven Q Public at vespianage@aol.com and he will kiss you on the lips.
(From Rob at galaxy@seine.com)
---
The Knubs from Carrollton
---
Kung-Fu Monkeys from Central Texas
---
Liquid Cheese from El Paso
Sam on Trumpet, Vocals
John Michael on Sax, Vocals
Ricky on Trombone
Luke on Sax
Roy on Guitar
Kieron on Guitar
Roland on Bass
Gabe on Drums
(From Laura at Tadpole8me@aol.com)
---
Los Skarnales from Houston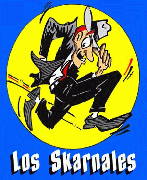 Los Skarnales is a Latino power surf ska-punk band from spring branch and north side Houston. They've played together for about 2 years now and mix both Spanish and English into their set. They've played with Slaphappy, the Blue Meanies, Skankin Pickle and others in Houston. Recently they played DMZ and TacoLand in San Antonio. They are currently working on their Texas Tour. Moon Records is considering placing the band in their 1996 comp of Latino Ska. The band is also part of the movie soundtrack for Pain Flower. A movie filmed in Texas' Rio Valley on gangs to be released at the Corpus Christi Chicano Movie Fest and possibly at Sundance. The band has just released a full length cassette w/19 professionaly recorded songs. It is on their own label Pinche Flojo Records and is available for $7.00. The band was Public News' (A Houston Alternative Newsweekly) Latino Pick for 1994 when they were called Desorden. Their following has been growing slowly and their mixture of Spanish language songs with English songs has attracted a Latino following as well.
For more information write to them at:
PO BOX 431212
Houston, TX 77243-1212
or contact them through Joshua @ Severed Image:
3227 Milam St
Houston, TX 77006
(713) 526-5083
for booking.
For faster response E-Mail us: Gosevered@aol.com
(From Josh at Gosevered@aol.com)
---
Luco Brasi from Dallas
---
Middlefinger from Houston
---
The Mod Squad from Houston

---
MoneyPenny from Austin


From the scarce remains of The Bowler Boys, comes MoneyPenny. A new ska band on the Austin scene, reviving some of the greatest Bowler Boys tunes, adding some Specials, some Clash, and some Marley to put on one hell of a show. Most recently appearing at the Flamingo Cantina, and already booked for a Feb. 21 show at VooDoo Lounge, in Austin, we are working on shows at Fat Tuesdays and Tropical Isle, all on 6th Street. We are also working on booking shows in Waco and Houston.
(From Justin at moondog1@flash.net)
---
My Names Jerrold? from Arlington and Cleburne
My Names Jerrold? is a ska punk band from Arlington and Cleburn who are looking for horn players. Come to our page for more info...
(From Jeremy at mynamesjerrold@hotmail.com)
---
Navin's Thermos from Austin
These specimens of human perfection make music, and they make it extremely well. These are rock stars through and through and they know it - they have a lot of freaking attitude. Then again, you'd be cocky too if you wrote music that was going to change the world. Oh, and have you seen them? Bands do NOT come better looking than they do. Beautiful, svelte, handsome, whatever you want to call them, they look damn good.
David Hasselhoff watch out - Navin's Thermos is coming to Germany...
(From Nate at natus@mail.utexas.edu)
---
903Buoy from Clear Lake
---
O'Doyle Rules from Houston
O'Doyle Rules is the official ska-dork three man jamming mofo band. Straight out of North Houston we are begining our rise to fame with our stupid songs and killer harmony. GO SEE US!!!
Members include:
Pimp Daddy Dork--aka--Scott: Geetar and vocals
Brother Hone--aka--Matt: Bass and back-up vocals
and
Kid with Strict Parents--aka--Aaron: Drums and back-up vocals
So come out and see us play, and maybe we'll take you out for pancakes.
(From Scott at Whytb0y@aol.com)
---
On the Double from Fort Worth
On the Double is a ska band from Fort Wort. It's members live in Fort Worth and Denton. We have been together since April 1997. In November we recorded our first CD entitled DayOne. We have eight members including two saxes and two trombones.
Our website is at: http://members.rediff.com/onthedouble/twotone.htm
Contact us at: onthedouble99@hotmail.com
(From onthedouble99@hotmail.com)
---
1000 Miles From Anywhere from Dallas
---
The Options from El Paso

| | |
| --- | --- |
| | (Dexter went on to join Spoiler, though...) |
The Options play a unique catchy style of 3rd wave Ska, Punk, and 2 Tone and are known for unusual noises that come out of their horn section! The horns rarely play the same thing as one another, their harmonies are like none other! The Options are (were):
toasty on bass!
shorty on g-tar!
dexter on drums!
mut on vocals!
ibm on trumpet!
yucko on sax!
(From Skaoption@aol.com)
---
Pen15 from Plano


---
The Polecats from Houston

| | |
| --- | --- |
| | ??? |
The Polecats are a ska-core outfit who's members are:
Kelly Harper - Guitar and Vocals
Craig Lawrence - Bass
Neil Wass - Drums
Jeremy Mills - Sax
Mike Towber - The Happy Horn (Euphonium)
(From Mike at 73741.376@compuserve.com)
---
The Quips from Austin



Hey, we're The Quips! We're a 5-piece ska/punk band from Austin consisting of Devin King on lead vox and guitar, Dan McIntosh on bass and vox, Nathan Hager on drums, James Bailey on trombone, and Noah Kelly on trumpet. We started out two years ago as a three piece and now we rock the kazbah not only as a five piece but as juniors in high school. Okay, all this stuff is really stupid. You will never know us by name and you probably don't care whether we're juniors or not. All you care about is if we rock. Well we can promise you that if you come to see us we will not only rock but you also might get a blow-up zebra or giraffe (or even an 8-track, and who has enough 8-tracks?). So I guess you should move along to the next band now, we don't have much more to say except "The Quips Rock!"
(From Thequips@aol.com)
---
The Resistors from San Antonio


Alright kids, are you ready for the next Ska band out of San Antonio, Texas? As if Spies Like Us wasn't enough, The Resistors are an 8, soon-to-be-nine, member Ska band that hopes to keep your feet moving for many years to come. The Resistors repertoire consists of a "Third Wave"/traditional style of Ska with a few punk twists that'll keep all the Rudies happy! Look for us out on tour with Spies and hopefully many others. So put your dancin' shoes on, hold onto your braces, and Skank-It-Up with the Resistors! We're gonna be planning a summer tour of Texas and maybe farther so, if you have a place for us to play in your town, send an email to hooper9@ix.netcom.com.
The line-up is as follows:
Skip Brooks - bass
Gerald Hooper - vocals, guitar
Chris Polansky - drums
Keith Lewdey - backup vox/toasting
Jeremy Garza - tenor sax
Laith Fisk - trumpet
Chris de la Peņa - alto sax
Dave Ludy - trombone
Al Luther - backup vox
(From Gerald at hooper9@ix.netcom.com)
---
Reserved Parking from Houston
Houston ska at it's finest. A culturally diverse band with diverse music.
Juan - vocals
Brad - drums
Derrick - trumpet
Jethro - guitar
Eric - sax
James - guitar
Thomas - bass
(From Brad at kleenbrad@hotmail.com)
---
Rub-a-Dub from Houston
---
St. Vitus Dance from Houston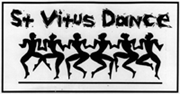 Five rude boys and two rude girls who love to twist and jerk, mosh, and mod ska dance (just what the name would imply). We're grounded in Houston, but cover Texas. We have appeared with MU330, Gals Panic, and numerous Texas Ska bands. We have all quit our day jobs to squander the millions of dollars we have generated by playing Ska music in Texas. We wallow in idle decadence and moral decay. So if you are in or around Houston, check us out - hey, we might throw money at you. For more info contact us at:
St. Vitus Dance
P.O. Box 27074
Houston, Texas 77227-7074
or E-mail us at stvitus@mail.infohwy.com
(From Ruel at stvitus@mail.infohwy.com)
---
Secret Agent 8 from Texas City


Secret Agent 8, a 10 piece band, was conceived in February 1996 in Texas City, an industrial area on the Texas Gulf Coast between the cities of Houston and Galveston Island. Two of their original songs are featured on the Ska music compilation CD "Texas Ska Volume 1" on Pinche Flojo Records. In the summer of 1998 they recorded their first full-length release at SugarHill Recording Studios in Houston. Their self-titled debut CD was released November 6th, 1998, on their independent label, 008 Records, and contains twelve of the group's original compositions.

After winning the Ernie Ball sponsored Battle of the Bands 2 at the Abyss in Houston, they went on to perform in the Vans Warped Tour at the Astro Arena. They placed first in the Ernie Ball International Battle of the Bands 2 Semi-Finals in Long Beach, CA on November 8th, 1998, and will now go on to compete in the Finals which will be held in Los Angeles, CA in January, 1999.

They have opened for bands such as The Scofflaws, Regatta 69, Reel Big Fish, Magadog, Mobtown, The Robustos, Skoidats, Skanic, and The Blue Meanies.
(From Secret Agent 8 at secretagent8@hotmail.com)
---
SFL from Houston
---
Shut Up and Dance from East Texas (mostly)

| | |
| --- | --- |
| | (They changed their name to I Like You (As A Friend)) |
Shut Up and Dance is an all girl ska band from different parts of Texas, but mainly the East. We just started recently, but we don't suck too bad. We sound kinda third wave, kinda poppy ska. There's five of us between 15-18. I'd say we sound kinda like Buck o' Nine with Save Ferris vocals, but not because we're all girls. Okay, anyway, we don't have a big list of shows that we've played with big bands because we haven't played with any big bands. But if you want us to play (you know you do), you can contact us at fresh@prysm.net.
(From Brea at fresh@prysm.net)
---
Skamakozi from Houston
---
The Skastafarians from Dallas



In addition to their influences of Jamaican folk and backbeat British rock, The Skastafarians add their own blend of jazz and rock to create an original "third generation ska" sound. Formed two years ago in Dallas, this seven piece ska band has played regularly around Texas as well as a tour of the Southwest after releasing their debut album, Drink More Courage, in August of 1994.
The Skastafarians' live shows pay tribute to two-tone legends The Specials, ska-core rockers The Mighty Mighty Bosstones, ska- revivalists The Toasters and unexpected artists including The Doors and Morrisey. However, the band's strength is its distinctive horn driven sound, driving rhythm section and explosive stage performance. The Skastafarians have just expanded the distribution of Drink More Courage to include Europe and Australia and the band will be back in the studio in March to record a new song for the upcoming Skanarky II compilation album due for release by Elevator Music.
(From Andy at asample@sun.cis.smu.edu)
---
Skate Or Die from Round Rock
Skate or Die is a 4 piece ska/punk/tejano band out of Round Rock, Texas, which is all of 7 minutes north of Austin. We've been around for about a year now and have spread our love, and our seed all over the Austin area. The band mates are...
Owen - Vocals, Kung-Fu
Ryan - Guitar, Tae-Kwon-Doe
Bryan - Bass, Ninjitsu
Charlie - Drums, Karate
We've played with a lot of great bands and have 2 releases, both available through us. For information, booking, or anything like that: Skateordie@mailexcite.com.
(From Bryan at Skateordie@mailexcite.com)
---
The Skatterbrains from Corpus Christi
Well there is Omar M on bass and vocals, Kye S on Guitar and vocals, Vince V on drums, Jose A on Trombone and Leslie C on Sax! I guess we have a Less Than Jake sound with a mix of our own shit!
(From pezcore_dispenser@yahoo.com)
---
The Skawalkers from Dallas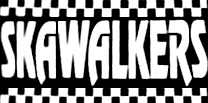 The Skawalkers formed in May of 1997 and have quickly become one of Dallas' premier ska bands. The band has constantly been bringing their unique sounds to all of the DFW haunts, and have also ventured to several other Texas cities. The Skawalkers are directly influenced by The Grown-Ups and also fuse influences from surf, reggae, all brands of ska, and a punk rock attitude to create the ultra hip now sound that the jedis produce. The Skawalkers have released a split 7" with The Hollywood Rivals from Minnesota on Cousin Eddy Records. Also look for several other releases by The Skawalkers in 1998! When the jedis come to your town, don't miss out on their one of a kind live show! Contact The Skawalkers at skawalker02@juno.com for more show and merchandise info.
(From Chad at skawalker02@juno.com)
---
Slaphappy from Houston

---
The Special Guests from Corpus Christi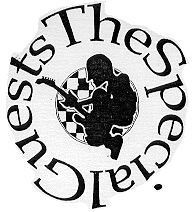 The band consists of six members. One lead singer and back-up guitarist, Brent Bischoff. One lead guitarist and back-up vocalist, Kenny Thornton. Lucas Braley is the bassist. George and John are the horns, which consist of a trumpet and trombone. (Still looking for a saxophone player...) Danny the Man is the drummer. The Special Guests play any show they can find a ride to. Some of the bigger names they've played with are The Suspects, Mustard Plug and The Mad Caddies at Ska-La-Palooza, and for all you San Antonio locals, Spies Like Us and The Resistors. Right now they have a demo out, self titled, and are looking for a record label in the area of South Texas. The demo has seven songs, with the loudest crowd response to "New Scene" and "I Can't Dance." The Special Guests are skankin' the crowd to the pit!
(From Kurt at bischoff2@juno.com)
---
Spies Like Us from San Antonio


Behold, the first ska band out of San Antonio, Spies Like Us! Bringing you the traditional sounds of ska with surf and reggae influences.
Spies is an eight piece band consisting of trombone, trumpet, guitar, drums, bass, keyboards, and two vocalists. In the first ten months after we started, we played over fifteen shows in cities all over south Texas including San Antonio, Houston, Seguin, New Braunfuls, and Corpus Christi. We've played with other Texas bands including Slaphappy, The Grown Ups, Los Skarnales, The Suspects, and The Contradicks. We have also played with some out of state bands (like Cherry Poppin' Daddies, Less Than Jake, Let's Go Bowling, The Pietasters, Reel Big Fish, Regatta 69, The Rudiments, Skankin' Pickle, The Skunks, and Slapstick...) If we ever come to your town or if you are ever in ours, come see the band that keeps your feet movin'!
Let us know if you're interested in a copy of our demo (and there's a CD on the way...).
(From Chris at uflorc@lake.ollusa.edu and Sean at LSankey@msn.com)
---
The Stingers from Austin
We describe our music as forward-thinking rocksteady and reggae mixes with deep roots in Jamaican and American soul. We're based in Austin, but we are visible around the world, live and on record. We have just been signed to Grover Records (Germany) and recorded a record here with Victor Rice producing. Our new mp3's are up and waiting to be heard.
www.thestingers.net
www.grover.de
www.victorrice.com
Email mofo@texas.net for booking and info.
(From Jonny at mofo@texas.net)
---
The Sunday School Allstars from Belton



The Sunday School Allstars are a 7 piece ska band from the University of Mary Hardin Baylor in Texas. Some of the members were seen in the former ska band, Sideshow Cafe. The Sunday School Allstars enjoy going crazy for the Lord while on stage and destroying each other in Goldeneye for the Nintendo 64. Be checking their webpage for a chance to see them when they come to a city near you.
(From SYDSHOCAFE@aol.com)
---
The Supermarket All Stars from Houston
(Formerly Slaphappy)

| | |
| --- | --- |
| | (Well, sort of. They changed their name to Last Summer and don't play Ska anymore...) |
We are a crazy bunch of guys from Houston that play energetic punk-ska and have a great time doing it. Last summer we toured the East Coast for 3 weeks with Less Than Jake and had the time of our lives. At the moment we have a split 10" with Injury, a rad punk band also from Houston, on Elevator Music. It will go to CD in a few months with 3 more songs from each band. Be on the lookout for us in your town as we tour the country this summer.
Email us cause we'd love to hear from ya! allstars@flash.net
(From Darin at allstars@flash.net)
---
The Suspects from Houston



The Suspects are a nine member band from Houston that play a mix of ska, reggae and rock. Since their inception in the summer of 1993, The Suspects have released four CDs, toured the midwest, and won a sack full of local awards (including best Punk/Ska Band, Best World/Reggae Band, and Song Of The Year).
(From Bill at bill@thesuspects.com)
---
The Thriftys from Houston


The Thriftys is a ska band from the center of Houston whose influences range from Ornette Coleman to Peter Tosh. The Thriftys want to colaborate the old school ska sound with legendary music that has been passed aside. For that, the Thriftys come from an approach showcasing the horn section. The music has many Jazz and Brazilian ties to it but it is still keeping it real... or something like that.
(From Paco at Shhhhh3040@aol.com)
---
Throw It At Your Brother from Austin
---
Tilting Wilma from Grapevine
---
Too Hectic from Denton
Websters defines Hectic as anything causing feelings abnormal to a person place or thing. So you can imagine what Too Hectic does to people. In other words... we suck. But that doesn't mean that after a six pack or so, you can't remedy that situation and have a romp-stompin skankin wanker of a time with us. If you like the punch in punk music and the upbeat rhythm of ska, by golly, you might just like Too Hectic.
Too Hectic is:
Mike "I'm a ladies man" Hectic - vocals
Big Bad Mr. Burly - electric twanger
Jason (Master)Bates - bass
Jessie - drums and Colt .45
our porn section...
Collin "Frankie Avalon" Irons - saxes
Funky Winkerbean (but we call him Phillip) - trumpet
And there you have it, all that is Hectic. Ya right, but if for some reason you want info on shows or Jason Bates porno career, E-mail Burly or Mike at either Mrburly11@aol.com or GHRider1@aol.com.
(From Burly at Mrburly11@aol.com)
---
20 Inch Long from Houston
---
The Vent-o-lators from Houston
---
Victims of Circumstance from Rosenberg



The Victims of Circumstance are a ska/punk band (sorry, no horns...yet) that got together almost a year ago. We're out in the middle of nowhere (i.e. Rosenberg, TX... near Houston), but we've managed to play a few shows at the standard Houston clubs. Here's an interesting note: our vocalist is a girl, but don't expect to see a jewel on her forehead in a pathetic attempt to be Gwen Stefani. Our sound is variable, depending on our mood swings, but for the most part, one can expect fast ska-based dancing tunes and punk rock in the tradition of Operation Ivy, but not quite--our singer actually has a voice. For information on show dates, releases, and/or small furry mammals please email Kelly at cousfam@wt.net.
(From Kelly at cousfam@wt.net)
---
Where's Arnie from Dallas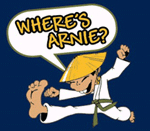 This new, fast growing ska/punk band seems to be taking over the scene lately. Their killer harmonies, mixed with there energetic upbeat rhythms make you wanna rip someone's head off. In the band's short existence they have already played with such acts as The Ataris, Apocalypse Hoboken, The Whyioughtas, O'Doyle Rules and many others. Be sure to check out one of their unforgettable live performances in your area soon. For more info and/or booking contact loganbogan@aol.com.
(From loganbogan@aol.com)
---
Whoa Sam! from Corpus Christi
A pop-punk band with a twist of ska from Corpus Christi.
(From Kye at WhoaSam1@aol.com)
---

Looking for Ska on the radio?
---

Looking for someplace to go?
---

Looking for something to read?
---
If you can think of anything I could add to this page, drop me a line. I'm always looking to add to it...


---